I've been included on the Official Team of AccuQuilt Bloggers!! I'm VERY excited about this as I will have lots to share and firsthand information for you about Sales and Special Offers!
First of all, click on the image below to get 22 FREE DOWNLOADABLE PATTERNS from AccuQuilt!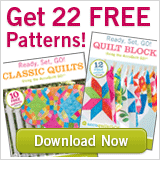 Next, visit these links for information about ongoing sales! Some of them end soon so GO NOW!
GO! 4 It Die Sale
http://www.accuquilt.com/go-shop/sale.html
Free Alex Anderson Die Set
http://www.accuquilt.com/go-shop/go-portable-fabric-cutters/go-baby-fabric-cutter-gift-with-purchase.html
Studio Fabric Cutter $395
http://www.accuquilt.com/studio-shop/studio-fabric-cutter/studio-fabric-cutter.html
Studio Die Sale Buy 4 or More and Save 25%
http://www.accuquilt.com/studio-shop/dies.html
Hope you're having a wonderful 4th of July and we'll see you soon~